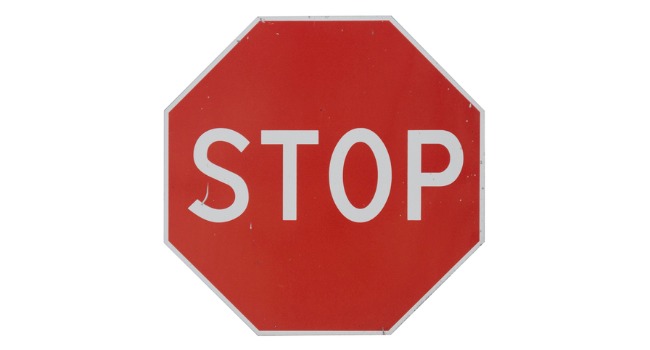 Running a stop sign is a common ticket in New York. However, the penalties for these tickets can be severe.
1172(a) of the NYS VTL is the specific stop sign section. The relevant part of this law states:
Except when directed to proceed by a police officer, every driver of a vehicle approaching a stop sign shall stop at a clearly marked stop line, but if none, then shall stop before entering the crosswalk on the near side of the intersection, or in the event there is no crosswalk, at the point nearest the intersecting roadway where the driver has a view of the approaching traffic on the intersecting roadway before entering the intersection.
1142 of the VTL deals with the concept of "yielding" the right of way to other vehicles you might encounter in the intersection after stopping at a stop sign. The emphasis there is on not entering the intersection until you are certain you won't be hitting another vehicle. This section points to 1172, the section an officer would charge someone with violating, as the sections that sets for the need to and rules for the actual stopping.
Essentially, the rules set forth that you must stop when at a stop sign. The statute is mostly about where to stop.
If there's a stop line, stop there.
If there's just a crosswalk and no stop sign, then stop before entering the crosswalk.
If there's neither a stop line nor a crosswalk, then stop at the point nearest to the intersection where you have a view of the intersection.
The discussion of where to stop is really just a theoretical one. In just about any case where a motorist has been charged with disobeying a stop sign, it's about a failure to come to a complete stop at any point prior to entering the intersection. Rarely if ever will you see an officer admit the vehicle stopped but argue it stopped at the wrong place.
Penalties for Running a Stop Sign in NY
Running a stop sign carries significant penalties. You may face fines up to $150 for the first offense, and increased fines with each susequent ticket, plus surcharges approaching $100. In addition, 3 points will be added to your license.
If you accumulate 11 points within 18 months, your license will be suspended. Just 6 months in the same period means you will be charged a Driver Responsibility Assessment of of at least $300. In addition, running a stop sign is sure to increase your insurance premiums.
Fighting a New York Stop Sign Ticket
There are a few defenses against a New York stop sign ticket that your lawyer may use in court to prove you're innocent. These can include:
The stop sign was impossible to see due to the position of trees, bushes or other obstructions
The line where the driver was supposed to stop was faded or otherwise impossible to see
If you have a dash cam, showing you came to a complete stop before continuing through the intersection
What won't work is feigning ignorance about the about the law or the existence of the stop sign. It's every driver's responsibility to know state laws about stop signs, as well as the existence of stop signs — no matter how new they are.
Get Help from a New York Traffic Ticket Lawyer
If you have been issued a stop sign ticket, you have legal options. Our attorneys may be able to get your charges reduced to a lesser infraction like disobeying a traffic control device, or get the ticket dropped altogether.
Call us at (888) 842-5384 (TicketHELP) or contact us online for a free, no-obligation consultation with a New York traffic ticket lawyer today.
Shahryar Feizi
I would definitely recommend them. They tell you exactly what they are going to be doing and then go out and do it! They are very responsive and their prices are reasonable. Even when I push them to get better answers, they didn't just promise to sign me up. They got me out of trouble without me having to go up to the NY state from DC. Thank you Feifer & Greenberg.
- Shahryar Feizi
Eugene Kingsbury
My experience with Feifer & Greenberg was excellent. Very professional, knowledgeable, and honest. Karima Khan took my case and was very caring, kept me informed at all times, responded quickly to all my questions, and had my case well under control making me feel at ease. I highly recommend them. Best of all, they got my 6-point speeding ticket dismissed.
- Eugene Kingsbury
Han Lee
I have been using Feifer and Greenberg for all of my driving ticket issues for about 10 years. They are always reliable, professional, and have been able to dismiss or reduce many tickets I have received. I highly recommend them to anyone I know and am thankful I always have them to consult for any issues I may have.
- Han Lee.
Simmons
Super fast service. Extremely experienced, professional and knowledgeable! Put my mind at ease, handled everything from beginning to end and i didn't have to leave the comfort of my home! If i should ever need an experienced professional in the future, Feifer & Greenberg will definitely be my choice, hands down!
- S. Simmons